We are the experts for Managed Cyber Security in Ohio.
When it comes to cyber security you have to take a pro-active approach.
Prevent data loss and costly repairs with BlueBridge.
Having the systems and power to keep our customers' businesses humming means nothing if they've got a revolving door when it comes to security.
No matter their industry, companies today must take steps to protect their critical data and information from inevitable security threats.
Using our Managed Security layered defense model, BlueBridge Networks helps companies build a comprehensive security platform to eliminate any vulnerable areas.
Free cyber security consultation
The best time to implement cyber security was when you connected yourself to the internet.
The next best time is NOW.
The BlueBridge model includes:
Regulatory Compliant Network Systems
Many companies need to improve the security of their internal data networks to comply with regulations such as HIPAA and Sarbanes-Oxley (SOX). BlueBridge can help these businesses design and implement "best-in-class" security solutions to cover their exposure under this legislation.
Managed Routers and Firewalls (MFW)
BlueBridge offers management, monitoring and maintenance around all aspects of a company's edge router and firewall or firewall cluster. These services not only keep our customers' networks secure, but also inform them of what is happening on "the edge" in real time.
Virtual Private Network (VPN)
An alternative to using a dedicated, leased access line, Managed Security VPN uses connections routed through the Internet from the organization's private network. This creates a secure VPN to a remote site or employee.
Managed Intrusion Detection & Protection Service (MIDPS)
BlueBridge monitors critical points in a company's network and compares the traffic patterns to known and suspicious attack patterns. Our specialists monitor this network activity and determine – based on the contents – whether to generate an alert at either the IP or application level.
Managed Traffic Analyzer (MTA)
This tool is a service implemented in the core functionality of the Network Security Appliance. The main mechanics of the system include a Real Time Usage Aggregator and an IP/PORT tracker. These engines work independently of each other with minimum performance penalty or network degradation.
Managed Secure Network
BBN's network monitoring scans the health, security and performance of your router, switch, firewall, and/or load balancer, along with site-to-site VPNs and secure remote connectivity. These services ensure the highest level of security tracking, controlling and alerting all the flows of communication to minimize any malicious activity. All are fully supported around the clock by qualified engineers.>
Vulnerability Assessments
includes Penetration Testing/Scanning
Vulnerability management is considered a network security best practice and is increasingly required by compliance regulators. However, conducting in-house vulnerability scans is challenging, resource-intensive, and expensive. Similarly, hiring an external consultant is often cost prohibitive, especially if you want to conduct on demand scans.
BBN's Vulnerability Management software reduces costs and complexity by automating the vulnerability assessment process, thereby eliminating the need to conduct in-house scans or hire external consultants. The solution also improves network security by providing on-demand vulnerability assessments, identifying weak spots in your network, and helping your administrators manage the remediation process. BBN's Vulnerability Management software empowers your IT department to drive down security risk and do more with limited resources.
Event Monitoring and Response
BBN's team of security experts monitor the critical devices on your network 24×7, eliminating the need to staff an internal security team around the clock. The team utilizes advanced techniques to investigate any suspicious activity and will take immediate action to prevent attacks from occurring. BBN correlates all security events across our massive customer base, therefore we can identify and respond to emerging threats more quickly— this is called the "neighborhood watch effect."
BYOD Security
Real-time device discovery which ensures that your IT asset inventory is always up-to-date (includes mobile & contractor devices) and helps prevent insecure and unauthorized devices from accessing your network.
Comprehensive cyber security assessment
Let BlueBridge Networks implement professional cyber security measures for your business.
Take the first step, before hackers do.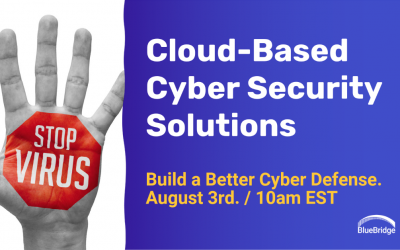 Don't be the next business to get hacked. In this webinar replay, we take a look at antivirus solutions and incident response planning. Experience...
read more
We Call It "The Ohio Cloud"
We are making businesses in Ohio more secure.
Would you like to improve your cyber security? Talk to our team and start with a free consultation.