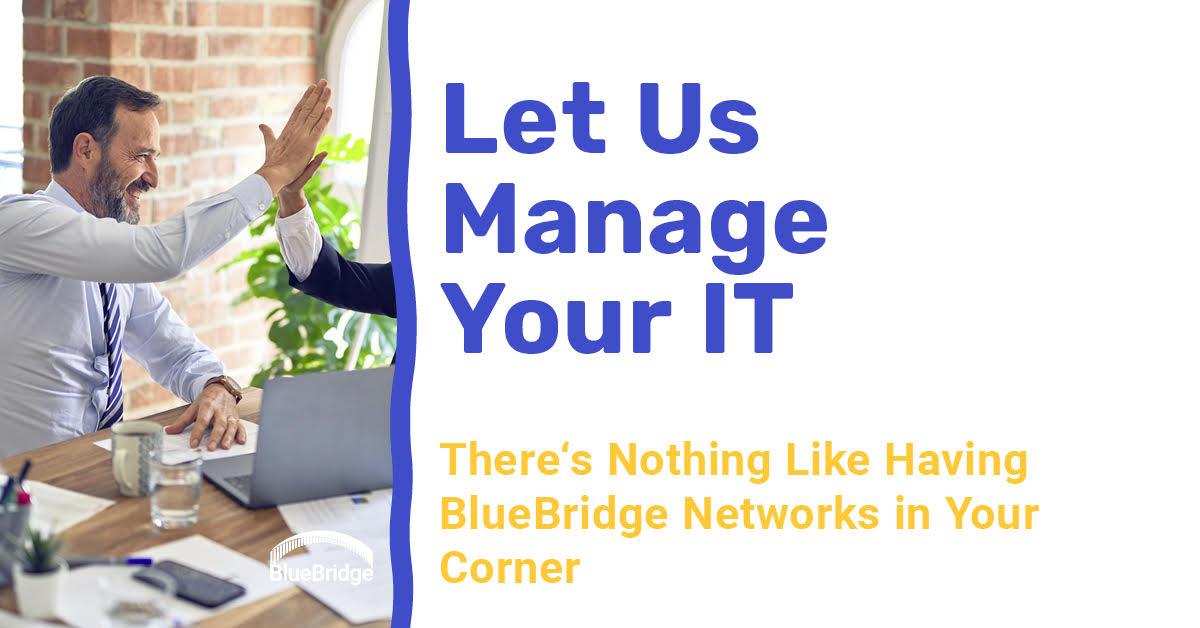 Want to learn more about some of the managed IT services we provide at BlueBridge Networks? In this article, we'll talk about why patching is so crucial for your business, provide an overview of our managed cyber security services, and then briefly touch on our other IT services. We'll close by letting you know about a free new service we're offering. Read on for more!
Patches Ward Off Hackers
Hackers keep their eyes peeled for vulnerabilities as they browse the internet. If they see that you haven't been patching, you may as well have left an open door for them along with a welcome mat. It's not an adage yet, but it should be: a patch a day keeps the hackers away.
Want to know the difference that patching could make for your internet security? A study by Voke Media found that 8 in 10 data security breaches could have been prevented with a patch or configuration change. Nearly half of those companies took longer than 10 days to recover – wasting precious time and resources in the process. In our November patching article, we mentioned two out of 10 internet vulnerabilities are considered high-risk. 
LogicMonitor is Efficient and Keeps You Safe
Most patching and monitoring software can be clunky and inefficient. To see where the vulnerabilities are, you have to switch between several types of software to monitor different environments. Updates and third-party patches take more time.

LogicMonitor solves all of those problems. You can see all of your systems (whether physical or cloud-based) within a single pane of glass. Vulnerabilities and abnormalities are easy to spot within the dashboard, and you can highlight relevant information as you're narrowing down the issue. 
LogicMonitor is easy to deploy and automate, so you won't experience a major slowdown when you get the software installed. The average installation time is between four to six weeks, making it one of the quickest monitoring options. 
A Closer Look at Managed Cyber Security
Another vital component of our IT services is managed cyber security. Unfortunately, many businesses don't think about cyber security until a threat is revealed. When that happens, the business owner and staff scramble around to see what they can salvage. Taking the "I won't get it until I think I need it" approach could cost you.
A better approach is to be proactive about cyber security. Make a plan to protect your important data from security threats. Internet security threats are not a matter of if, but when. We help you build a comprehensive, multi-layered security platform to eliminate vulnerabilities. 
Here's what include in our managed cyber security package:
Compliant network systems.

We make sure your internal data systems comply with HIPAA and Sarbanes-Oxley (SOX) regulations to protect your business. 
Managed Firewalls (MFW).

We manage, monitor, and maintain your router and firewall/firewall cluster to keep your business safe and give you a cyber security edge.
Virtual Private Network (VPN).

VPNs use connections routed from the organization's private network, creating a secure environment for your employees.
Managed Intrusion Detection & Protection Service (MIDPS).

We monitor critical points in your network and compare the traffic patterns to suspicious and known attack patterns. Specialists monitor network activity and send out alerts based on their findings.
Managed Traffic Analyzer (MTA).

This tool checks for real-time use and is part of the Network Security Appliance. It contains an IP/PORT tracker and MTAs work independently of each other with little performance penalty or network degradation. 
Managed Secure Network.

Our network monitoring checks the health, security, and performance of all parts of your system. Your business can enjoy high levels of security tracking to minimize malicious activity. 
Vulnerability Assessments.

Our automated vulnerability assessments are far simpler and less expensive than other vulnerability management methods. It improves network security by providing on-demand assessments to identify weak spots in your network and help administrators manage remediation efforts. 
Event Monitoring and Response.

Remember what we said earlier about not thinking about cyber security until a threat is revealed? BlueBridge has a specific plan in place for how to handle these events. Our team of security experts monitors your systems around the clock, investigating suspicious activity and taking action to prevent attacks.

BYOD Security.

Our real-time device discovery ensures your IT asset inventory is always up to date (including mobile and contractor devices) in addition to preventing unauthorized and insecure devices from gaining access to your network. 
Initial Phishing Test
Want to know if your business is safe from cyber security threats? We offer a comprehensive cyber security assessment to give you an idea of how your business stacks up. Included in that assessment is an initial phishing test, so let's talk about how it works. 
We send out an email to each of your employees with a realistic phishing scenario tailored to your industry. This gives us a good idea of what's going on within your company. In our experience, around ⅓ of your employees will need more cyber security training, but you'll know in 3 simple steps:
Make or generate a list of staff emails

BlueBridge sets up the campaign

Together, we analyze the results
The phishing test isn't a one-and-done scenario, either. It will keep sending baited emails on a regular basis (once a month, at least) to keep your employees vigilant. Why? Because otherwise, employees will begin to let their guard down. If any of your employees click on the phishing link, they'll immediately see an educational video. 
Contact us if you'd like to learn more about the phishing assessment or schedule a cyber security assessment!