Cloud-based business productivity: Google Workspace and Microsoft Office 365
Word processing, spreadsheets, and presentations are still the core of many businesses and although the fundamental concepts of what these applications are designed for have not changed much since we started using computers.
The products themselves have changed considerably, especially with the cloud integrations between apps in the suite and the functionality of the apps themselves.
This article is a technical review from Kevin Goodman, Managing Director at BlueBridge Networks, a managed service provider in Cleveland.   
Both Microsoft Office 365 and Google Workspace are great productivity suites for your business.
You are most likely familiar with both Google's Gsuite products and Microsoft Office. One of them, Google's Gsuite, recently had a name change: "Google Workspace."   
This is a sure sign that the office suite is becoming a "productivity suite" because your staff uses it at the core of your business. We also take it as a sign that Google is longing for Microsoft's Kingpin position in the word & number processing market.   
Modern and cloud-based solution enables document collaboration, streamlines internal communication, enhances mobility, ensures security, and provides easy remote working access.
While Google claims their move was planned long before the pandemic hit, we are collectively more experienced in remote working.  
Microsoft has continued to develop its Office Suite since 1990; Google has offered a free text editor, spreadsheets, and a slide-based presentation tool to all its users since 2006.
Their fundamental concepts have not changed much over time but the functionality of what can be accomplished has, and how all those products integrate has changed considerably.  
At BlueBridge Networks, we have been particularly busy with migrating office teams into the Cloud.
We have migrated numerous users to their new work environment. In most cases, this means migrating from an on-premises exchange server or exchange cluster to Microsoft Office365 and reconfiguring the respective users with minimal impact to those users. 
Our focus with every migration is to make it easy for your staff and businesses' in Cleveland.
A modern workplace is seamless and digital, and while most office workers commonly use office software tools, the administrative part can become a headache for business owners.    
We have done small and large migrations of employees into their new work environment: Microsoft Office 365.
I do not want to dive into how Word works differently than Google Docs, how Excel compares to spreadsheets, and what makes Powerpoint different from Google Slides, with a few exceptions.
Most of the surface functionalities are very similar and come down to a personal choice or what an employee has gotten used to.    
One of these exceptions where Excel may still have more powerful functions is called "macros", which cannot completely be replaced by Google Spreadsheets.
If you or your employees have been using highly customized excel spreadsheets with macros, there is a chance that Google's spreadsheets will not be able to import those.
Additionally, highly complex Excel spreadsheets may make use of behind-the-scenes VBA programming scripts whose functionality would have to be converted to the javascript language google uses for similar functionality.    
In terms of email, some could argue that Google has a slight edge over Microsoft because of its huge user base of almost 2 Billion private and commercial Gmail users.
Although this is not necessarily pivotal in a business context as many of our business clients rely on their own domain, which involves fine-tuning the email servers.    
We have learned that even Gmail users who have gotten used to Microsoft's Outlook do not like to give it up from our experience.
Once an employee has gotten used to a workflow their productivity weakens if you make them use a different interface for their work.  
Another underrated base for decision-making is security concerns. Cyber-attacks from foreign countries are still on the rise.
Collaborative work in remote locations requires identity and access management, a crucial part of keeping your business data safe.  
At BlueBridge Networks we implement multi-layer security protocols for companies to keep their data safe from unwanted access.
Both Google and Microsoft are very aware of the current threat level and have included options to secure emails and document storage.
A must-have, and still and underused option, is the two-factor authentication protocol.   
Latest surveys show that half of all businesses have not implemented the extra layer of protection to keep an account safe, even when the password has been "discovered" by a third-party.  
Protect your intellectual property with an integrated archiver.
While external threats are rising, let's not forget about internal factors that need to be addressed. One of them could be an unsatisfied employee that is planning an "exit." We have had cases in which customer databases, address lists, quotes, and other viable business data had been sent to private email addresses.  
Those employees were either planning on opening their own business or had been hired by a competitor.   
With concrete data like recent quotes, it would have been easy to undercut your business by offering a slightly lower price. That's why an appropriate archiver solution is another must-have for your business. Both Microsoft Office 365 and Google Workspace can be integrated with different software to secure your business data against rogue employees.  
What exactly can an archiver do for my business?
For emails, it would save incoming and outgoing emails, even if the account holder has deleted an email after it was sent or read. If your employee claimed they never received an email, you could check the archiver and see if that claim was true.   
We also highly recommend a protocol regarding exiting employees in which the administrator "dives" into the archived inbox and sent folders of the exiting employee. Trust is great, and control is proper management.   
There have been examples were companies have needed to take rogue employees to court, and the archiver gave them all the data they needed to win their case. The good news is, there are security settings for this in Office365 and Google Workspace.  
Securing email communication is the first step; monitoring files is the second.
A powerful archiver solution can also work as a tripwire to alert you of files being modified, shared, or deleted. Because a rogue employee does not have to be an overachieving salesperson, it could also be someone that wants to cripple your business by deleting or otherwise corrupting your data.   
I am not writing this to scare you; I am writing this because it happens all the time.
With the archiver in place, we can tell you when the files were modified and by whom. On the user/employee level, the files would no longer be available, but our archiver would be able to bring them back to life. If you want to support your employees with fast and powerful work tools and keep your data safe from external and internal threats, you will have to set those protocols in motion before the threat occurs.  
Concluding our Microsoft Office 365 and Google Workspace Comparison.
As you can tell by now, our focus as a managed service provider is based on a different perspective on those applications. I would not want to be the judge over which interface works best for the individual user. That is highly subjective and often connected to a user's past workflows. After all, both applications are powerful office tools, and a tool is only as good as the "craftsman" that uses it.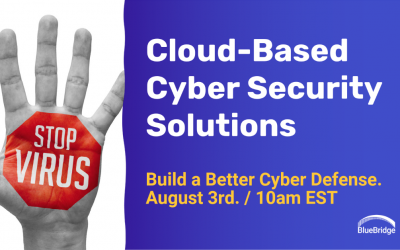 Don't be the next business to get hacked. In this webinar replay, we take a look at antivirus solutions and incident response planning. Experience the Q&A and real-talk discussion with our four cyber security experts. This is for people that want to take the next...